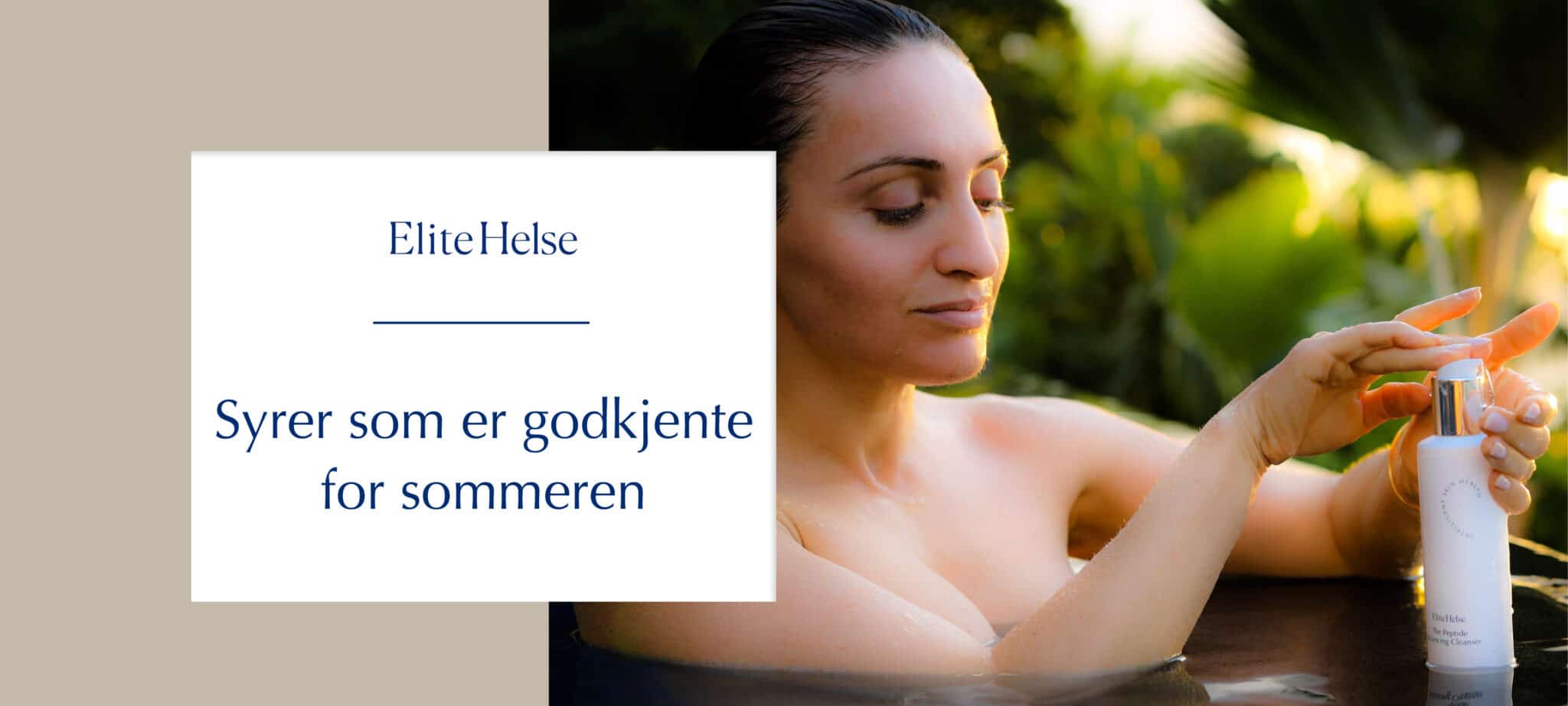 Syrer som er godkjente for sommeren
Ja du kan bruke syrer om sommeren. Det finnes flere typer syrer og det er viktig at du vet hva slags syrer du kan bruke og hvordan du skal bruke den. Vi gir deg en liten introduksjon og oversikt her, men husk at ingen hud er lik og vi har alle forskjellig behov grunnet hudtype og hudtilstand. Vi anbefaler derfor også ta du tar en prat med din hudekspert om hvilken syrer som passer best for din hud.
Hvordan bruke syrer om sommeren
Din morgenrutine bør være fokusert på å beskytte, fukte og berolige. Fortsett med å bruke syre gjennom sommermånedene, men bruk de om natten i motsetning til om morgenen. Det er også viktig at du bruker en bredspektret SPF daglig og helst hver andre time i gjennom hele dagen.
Diskusjonen i fagmiljøet rundt bruk av syrer om sommeren er knyttet til lysfølsomhet og irritasjon av huden. Fotosensitivitet handler om hvor irritert og følsom huden kan bli når den blir utsatt for lys og UV-stråler. Som vi alle vet – lange, solfylte dager og varmere temperaturer krever andre tiltak for huden. 
Fotosensitivitet kan utløses av faktorer som antibiotika, antidepressiva, noen betennelsesdempende medisiner, retinoider og syrer. Effekten av fotosensitivitet er også avhengig hudens DNA, absorpsjon og hudtype, men kan trigges ytterligere av solen. Lysfølsomhet og syrer sammen (AHAs og BHAs) kan øke lysfølsomheten fordi huden ellers jobber med cellefornyelse som den gjør for å bla. skape en forbedret og jevnere hudfarge. 
Bruk av en bredspektret SPF hver annen time, hver dag – innendørs og selv om det regner eller snør, vil beskytte huden mot potensiell eksponering som følge av lysfølsomhet.
Når vi snakker om syrer refererer vi til disse:
Ikke-eksfolierende syrer / Hyaluronsyre
Ikke alle syrer fjernen døde hudceller, hyaluronsyre er en fuktighetsgivende hydrator som trekker fuktighet til huden.
Melkesyre er en AHA syre, men den er også en fuktighetsgivende hydrator. Når riktig mengde påføres fungerer den ikke som en peeling, men trekker i stedet fuktigheten til huden og vil ikke forårsake lysfølsomhet.
Sitronsyre, er også en AHA syre, men når tilført i ekstremt små mengder påvirkes ikke huden for lysfølsomhet hvis den blir utsatt for sol. C-vitamin er en antioksidant som gir en jevnere hudtone. Den er perfekt til bruk under solkremen. Husk at denne antioksidanten bekjemper og nøytraliserer frie radikaler, men den beskytter ikke huden mot solen. Hvis du fortsetter å bruke C-vitamin vil det ikke forstyrre hudens harmoni så lenge du fortsetter å bruke SPF daglig hver 2. time.
Retinoler
Sannsynligvis den tøffeste og mest diskuterbare syren når det kommer til sommer-behandlinger. Den er designet for å hjelpe til med å kontrollere kviser, utbrudd, redusere hyperpigmentering, bremse utviklingen av linjer og rynker, gi mer glød og forbedre tekstur og porer. 
Retinol er et must for alle hudpleierutiner. Retinol Serum 0,5% er godkjent til bruk om sommeren men sørg for at du bruker den om natten på ren hud, etterfulgt av Stem Cells Skin Booster, og deretter kun en antioksidant vi anbefaler The Xenibiotic Radiance Serum, sammen med fukt vår bestseller Daily Power Defence og SPF vår absolutte favoritt er Daily SPF 40 i morgenrutinen. Vi oppfordrer fortsatt bruk for å få med hudforbedring gjennom cellefornyelsen, men å bruke retinol om natten i stedet for om morgenen for å redusere risikoen for lysfølsomhet i huden.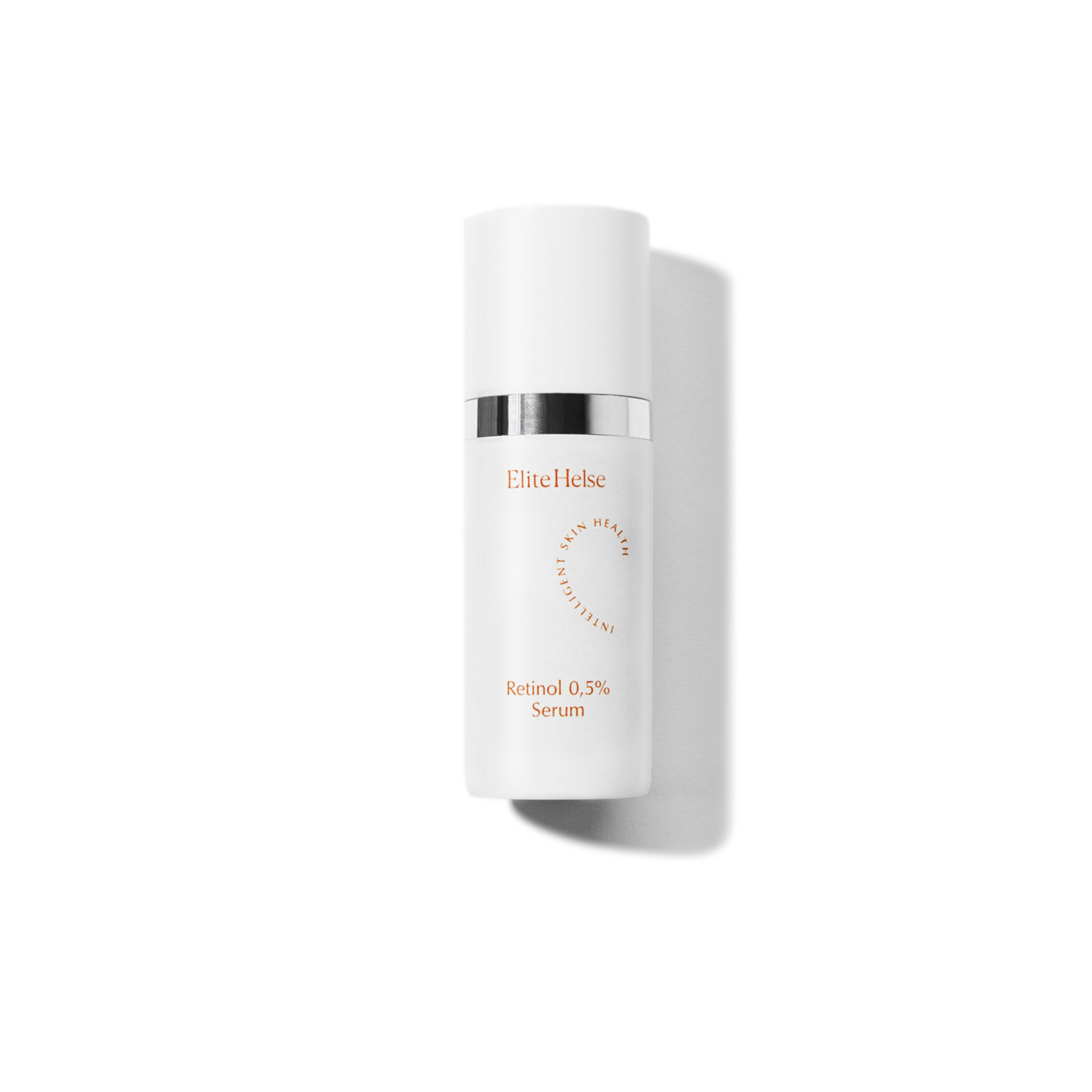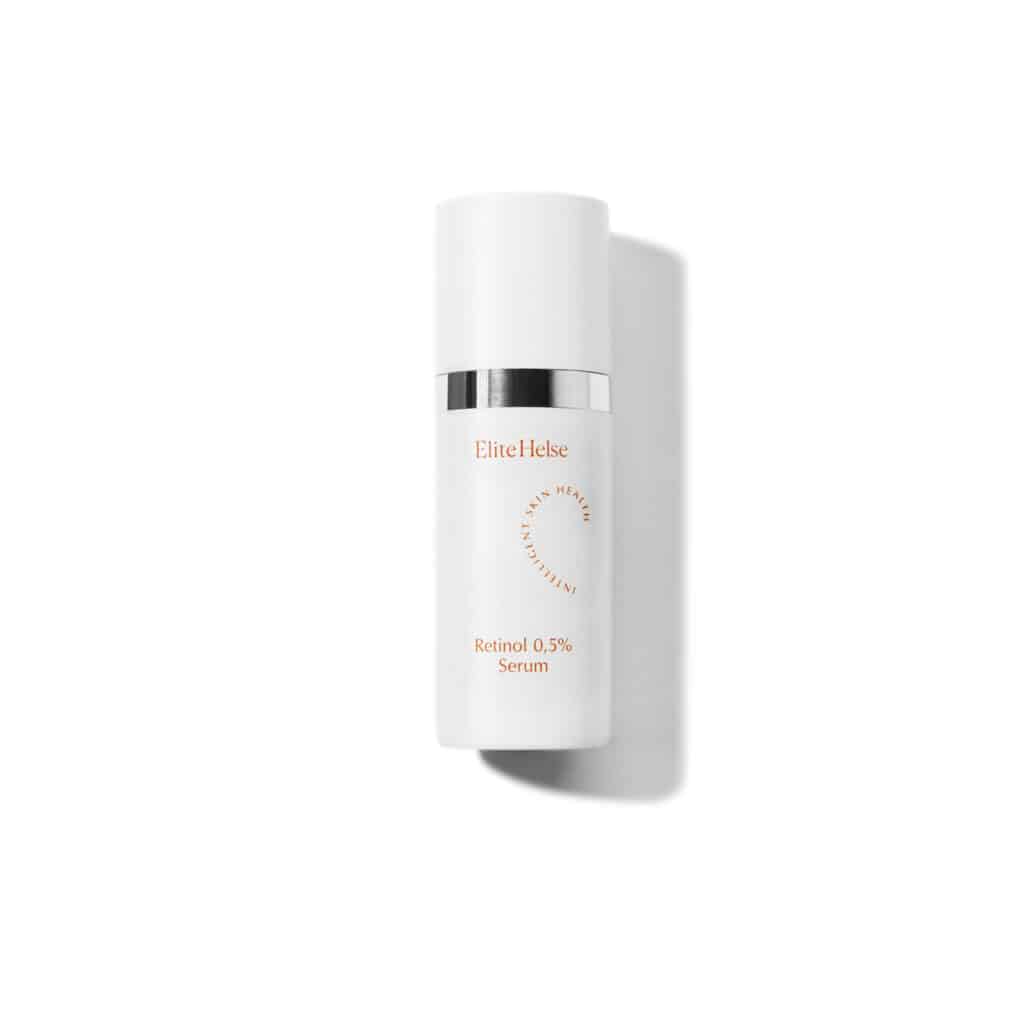 Retinol 0,5% Serum
Intelligent Skin Health
Barrierestyrkende serum med 0.5% ren vitamin A. Konsentrert anti-aldrings serum med retinol, fosfolipider og glykolipider som forbedrer hudteksturen og hudtonen samt reduserer fremkomsten av fine linjer og rynker i lengde og dybde. Reduserer porer, aldersflekker og fremmer en jevnere hudtone med økt volum og mer glød. Lipider hjelper til med å gjenopprette fuktighetsbarrieren, minimerer tørrhet og flassing fra retinol.
990,-
Radical Night Repair
ZO Skin Health
Et kraftig anti-age-produkt med en høy konsentrasjon retinol i et patentert leveringssystem. Bidrar til å redusere fine linjer og rynker, forbedre hudstrukturen og jevne hudtonen. Gir en glattere, friskere hud med mer glød.
2 335,-
Ferulic+Retinol Anti-Aging Moisturizer
Dr. Gross
Jevner ut – Styrker – Gir spenst. Den banebrytende kombinasjonen av ferulsyre og retinol, samt det innovative EKG Cellular Complex.
1 195,-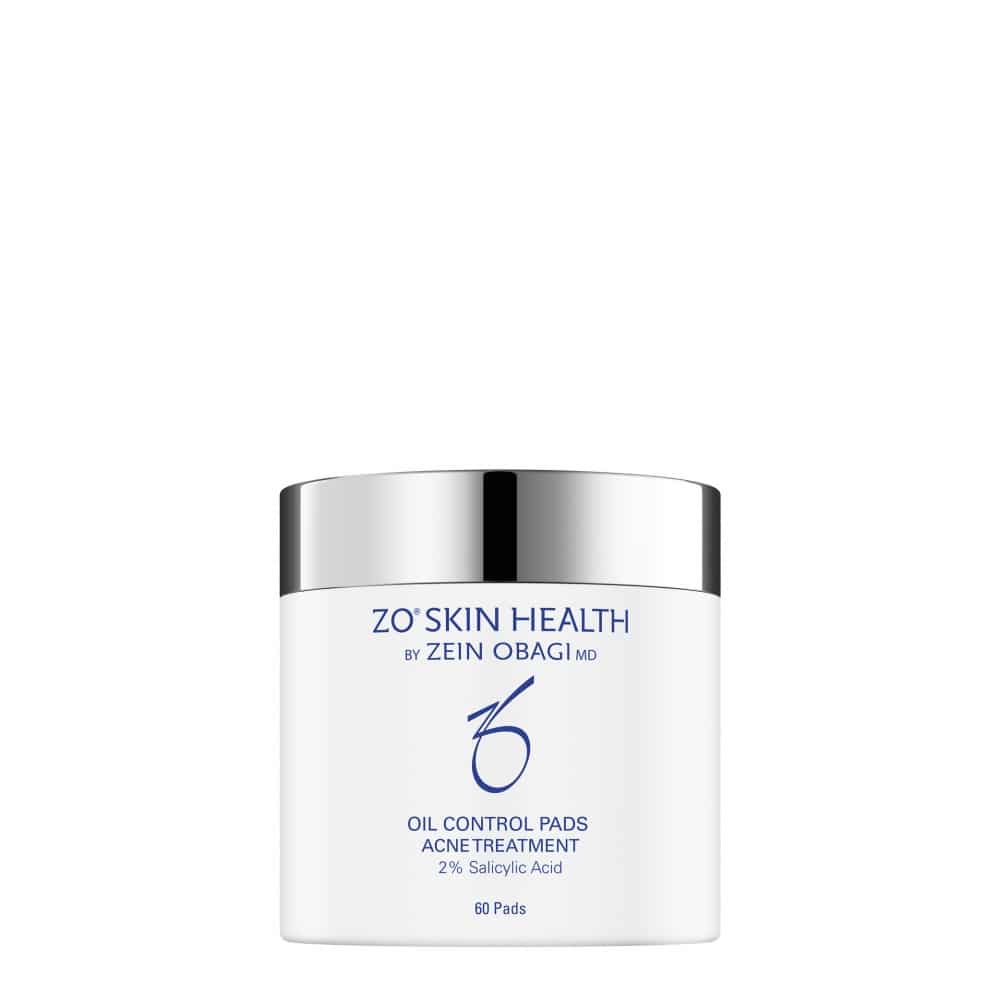 Oil Control Pads
ZO Skin Health
Effektive pads med 2% salisylsyre fjerner overflødig talg, smuss og døde hudceller. Bidrar til å dempe talgproduksjonen og reduserer store porer. Perfekt for å behandle urenheter og forebygge nye utbrudd.
809,-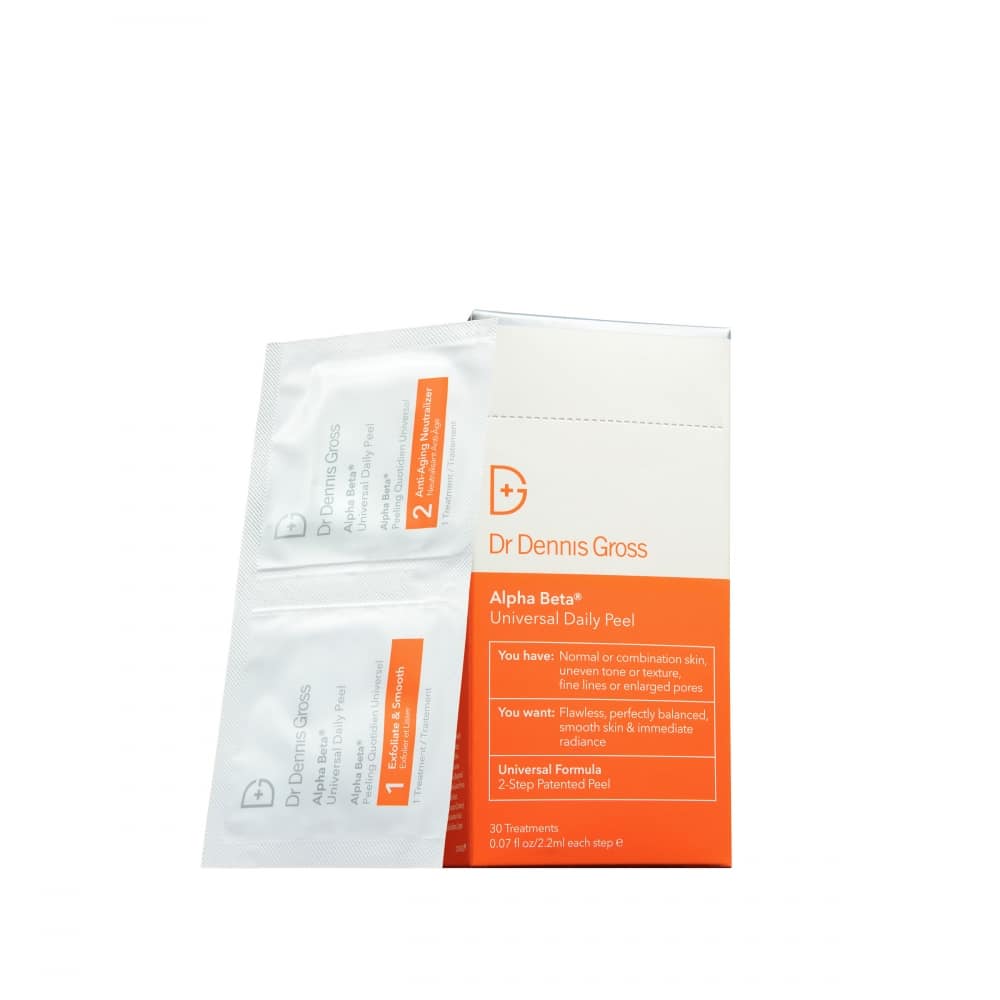 Alpha Beta Universal Daily Peel
Dr. Gross
Dr. Gross kjennetegn; Multi-funksjonell, patentert anisktspeel som leverer umiddelbart synlige og holdbare resultat til alle hudtyper og aldrer. Den innovative, multi-funksjonelle og patenterte ansiktspeelingen i 2 enkle trinn som kom til å bli Dr. Gross
995,-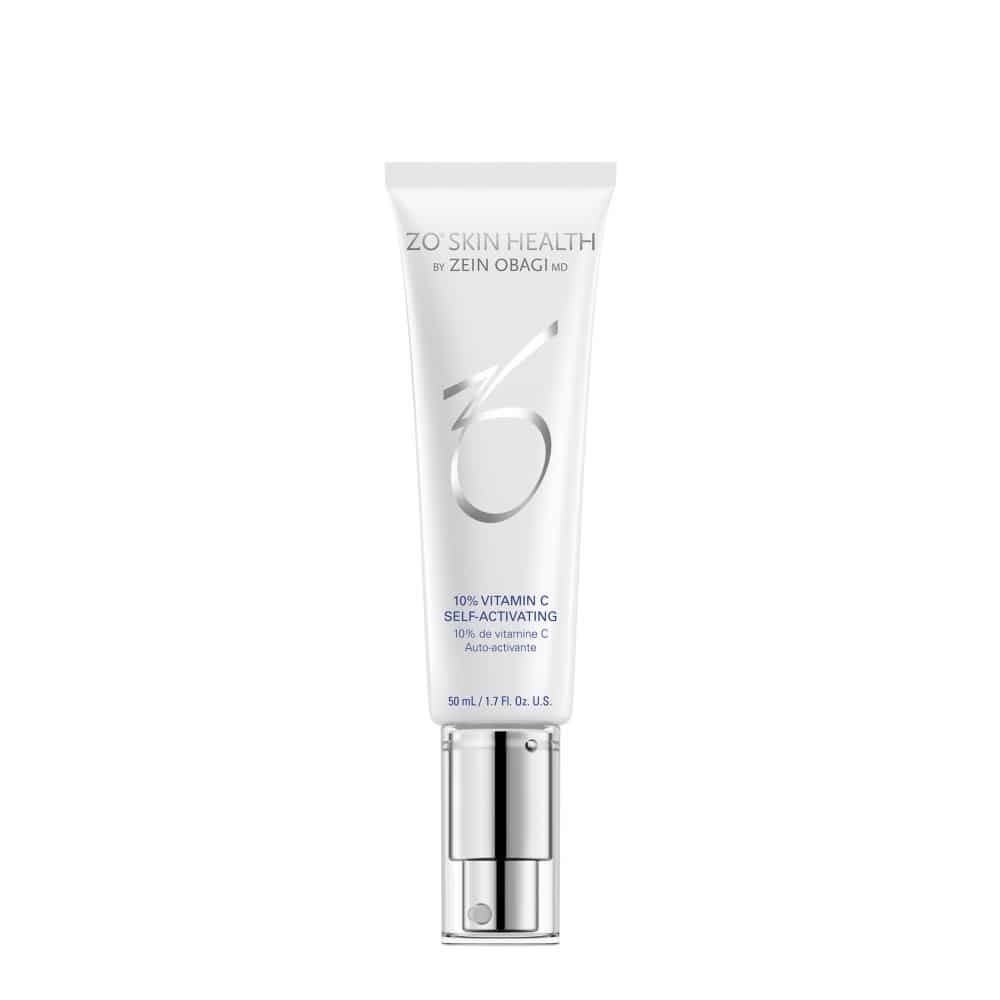 Vitamin C-self Activating Serum
ZO Skin Health
Unik formulering med en kraftig dose stabilisert askorbinsyre fornyer hudoverflaten og gir glød til huden. Produktet bidrar til å minimere fine linjer og rynker, og sikre en jevnere hudtone.
1 195,-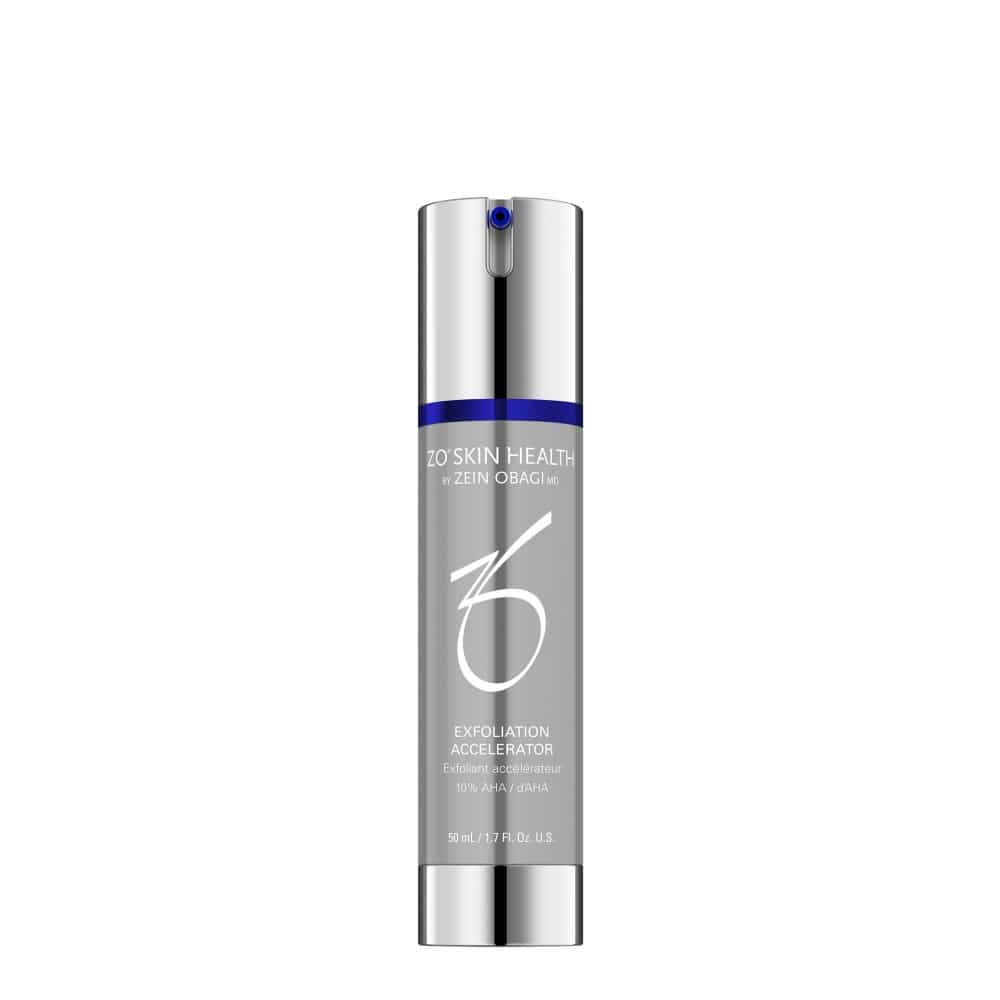 Exfoliation Accelerator
ZO Skin Health
Kompleks med melke- og glykolsyre som eksfolierer bort døde hudceller og reduserer tilstoppinger. Produktet gir en effektiv hudfornyelse samtidig som det roer ned og beskytter huden.
995,-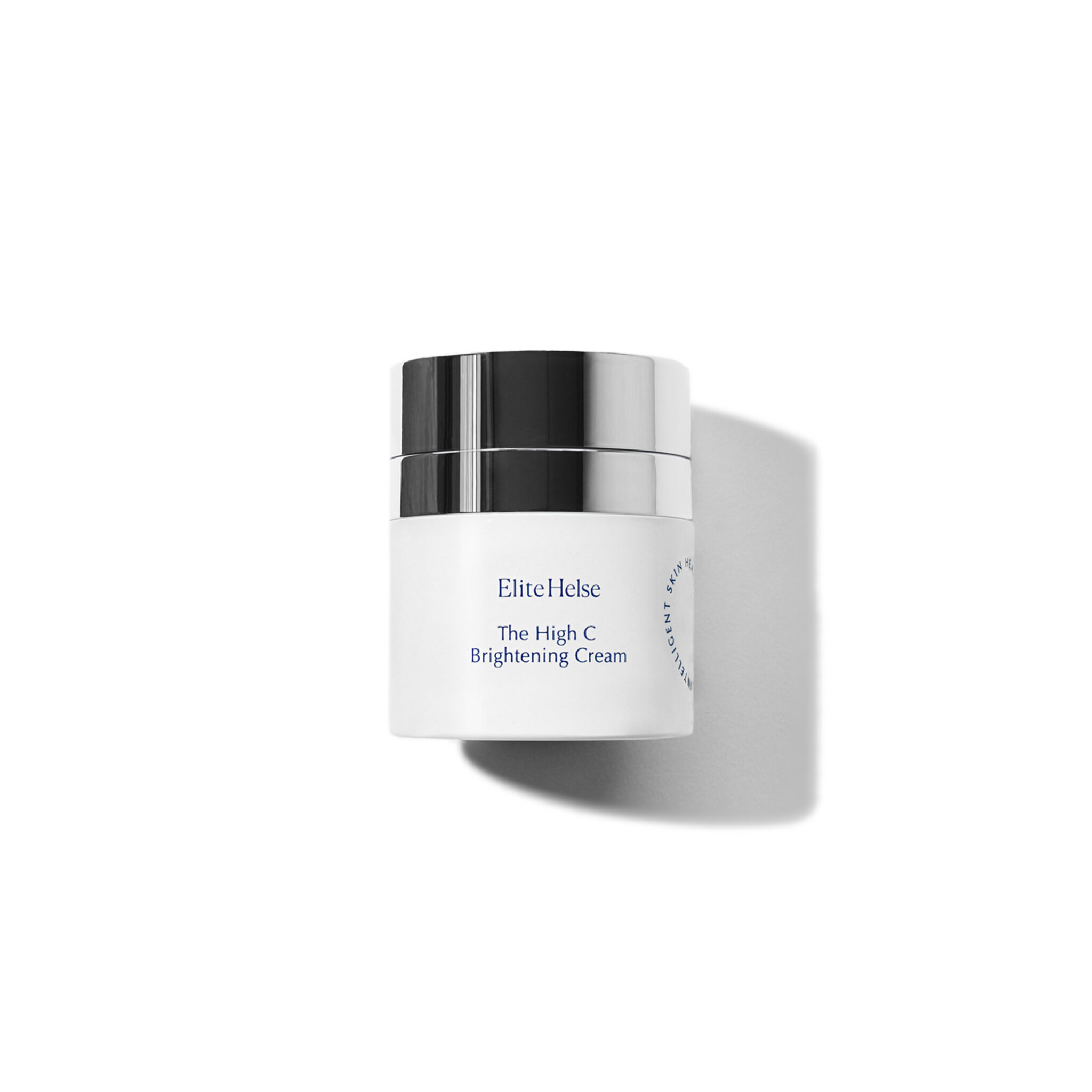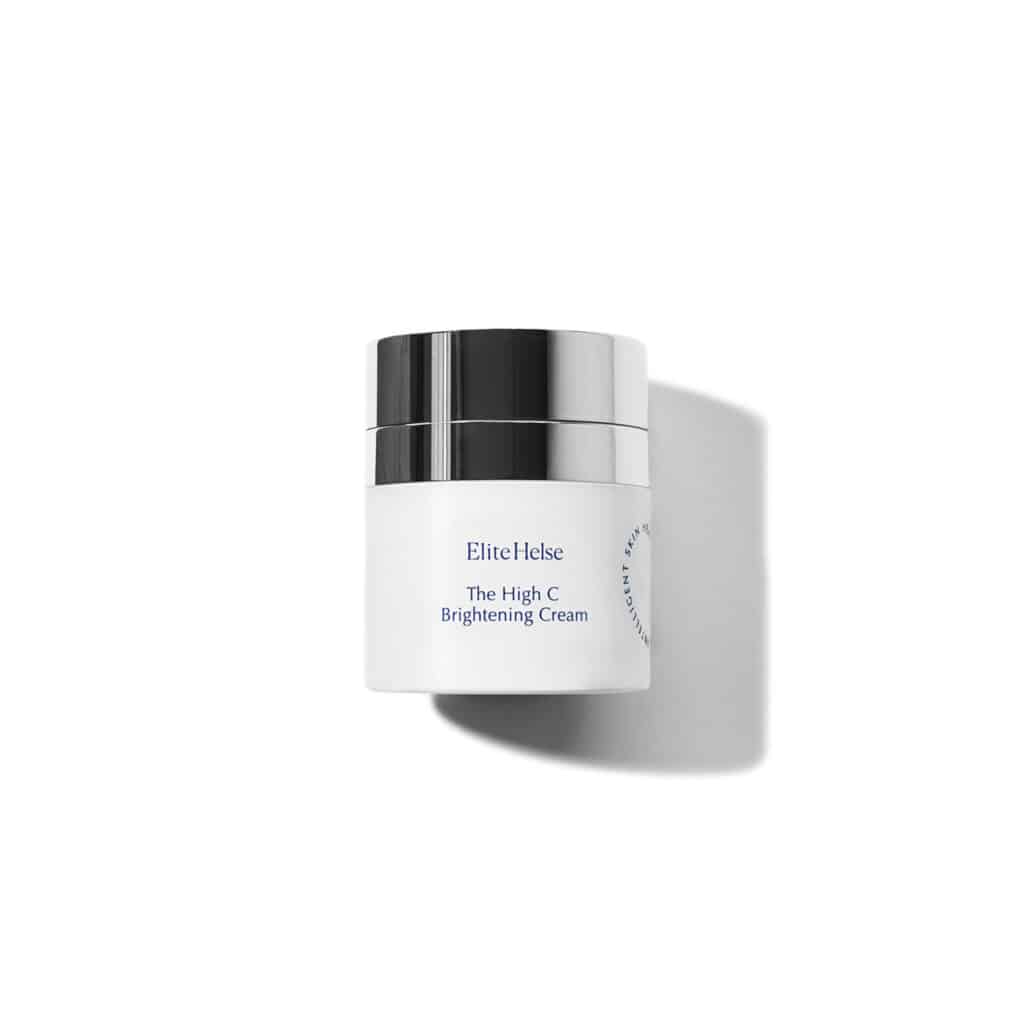 The High C Brightening Cream
Intelligent Skin Health
Intens brightening-krem av medisinsk karakter med vitamin C. Ansiktskrem mot hyperpigmentering og mørke flekker. Inneholder høy andel av L-ascorbic syre 20% og bidrar til en jevnere hudtone med mer glød. Produktet strammer opp og jevner ut ryker og fine linjer for bedre kollagen-syntese. Øker hudtonen og gjør huden myk og spenstig med ny glød.
1 429,-