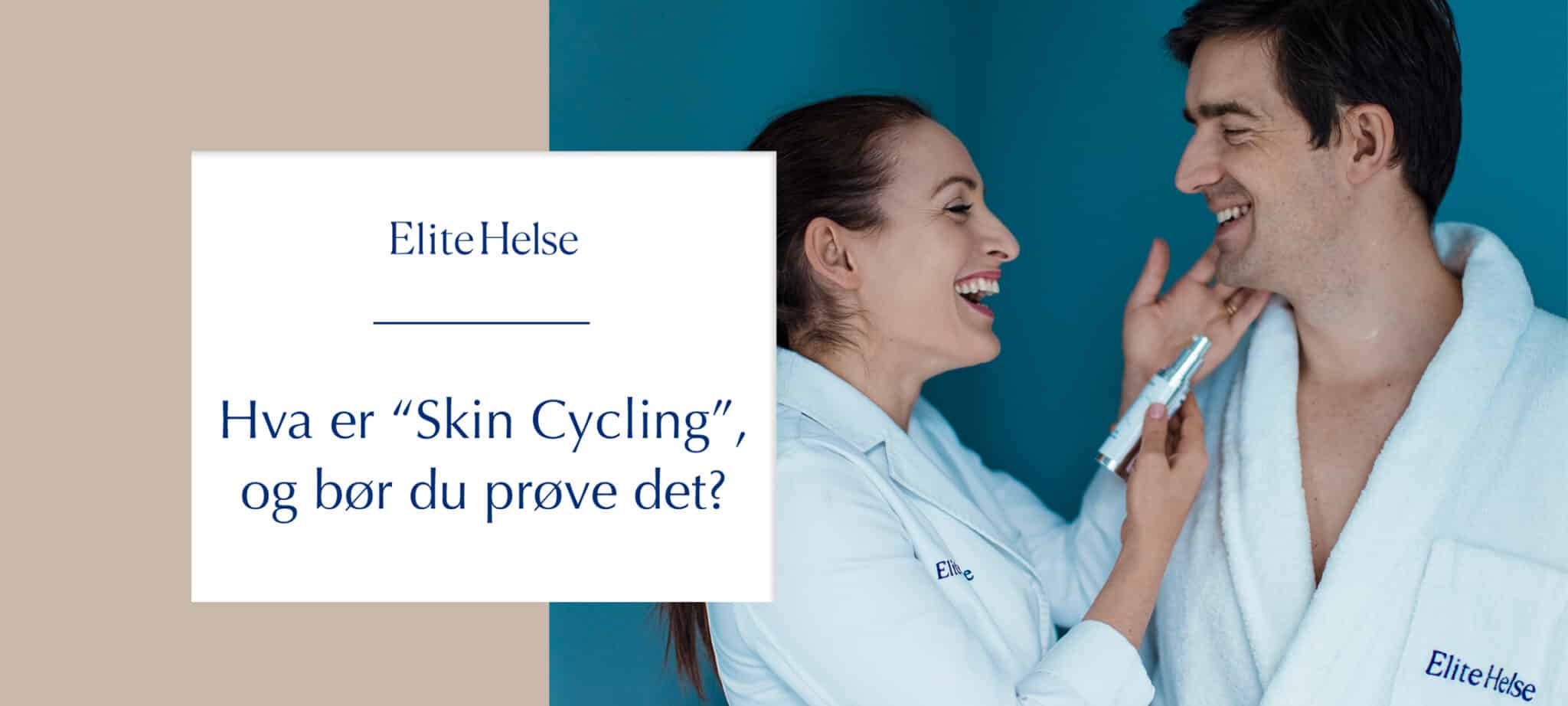 Hva er "Skin Cycling", og bør du prøve det?
Når det gjelder å ta vare på huden, er mer ikke alltid bedre – og hudsykling beviser det. Finn ut hvordan denne hudpleietilnærmingen fungerer, og hvorfor vi som leger og sykepleiere anbefaler den.
Du trenger tre produkter for en grunnleggende "hudsykling"-rutine: en peeling, en retinoid og en fuktighetskrem.
Til tross for navnet er "skin cycling" så er ikke dette sykkeltrenning for epidermis. I stedet er det et begrep som brukes for å beskrive måten produktene påføres på huden.
Dette er intermitterende eller vekslende bruk av aktive ingredienser. Folk må innse at huden vår, som resten av kroppen vår, trenger hvile.
Spesielt under pandemien la folk til lag etter lag etter lag i hudpleierutinene sine og eksperimenterte med ingredienscocktailer som irriterte og skadet huden.
Det er mye forvirring rundt hvordan man bruker aktive ingredienser spesielt på sosiale medier og vi ser sint, irritert hud som et resultat. Folk må ta hudens helse på alvor og heller oppsøke et medisinsk hudsenter for å få råd fra leger og sykepleiere som har lang erfaring. På Elite Helse gir vi gratis hudkonsultasjoner og stiller vår medisinske kompetanse til disposisjon for å sikre rett behandling til riktig hud.
I stedet for å stable flere produkter oppå hverandre, oppmuntrer hudsykling til bruk av produktene strategisk slik at de faktisk utfyller hverandre.
Skin Cycling hudpleiepraksisen.
Hudsykling er en hudpleierutine som tillater "hviledager" i løpet av uken, slik at huden din kan reparere seg selv etter bruk av visse produkter. Dette kan bidra til å forhindre irritasjon og betennelse dermed for tidlig aldring.
For å komme i gang med hudsykling trenger du:
En peeling (som glykolsyre eller salysylsyre)

En retinoid (tenk retinol eller retinaldehyd)

En fuktighetskrem (velg en duftfri, alkohol fri, uten ftalater og parabener)
Med disse ingrediensene i hånden er alt et spørsmål om timing. "Det klassiske hudsykkelregimet er en fire-netters syklus – den første er peelingnatten, den andre er en retinoide natt, og den tredje og fjerde er restitusjonskvelder, så gjentar du syklusen. Det er ulike varianter av metoden, avhengig av hvordan huden din reagerer.
x
Skin Cycling fremgangsmåte natt for natt:
Natt nr. 1: Peeling
På denne natten vil du rense huden dobbelt med sculpt and clean og deretter eksfoliere, noe som fjerner de døde hudcellene. Det er en god grunn til at dette trinnet kommer først: "De andre produktene dine vil yte mer effektivt fordi de er i stand til å trenge dypere inn i huden på en kontrollert, forutsigbar måte. Etterpå vil du fukte. En rask advarsel: 
Natt nr. 2: Retinoider
Denne kvelden er fokusert på retinoider, som er vitamin A-derivater som kan bidra til å redusere forekomsten av fine linjer og rynker. 
Disse inkluderer reseptbelagte medisiner, som tretinoin, og mildere, reseptfrie produkter, som retinol. "Retinoider er en av de kraftige ingrediensene å inkludere i din hudsykkelrutine. Men de kommer også med en ansvarsfraskrivelse:
 "De kan være veldig irriterende når du først introduserer dem, eller hvis du har sensitiv, reaktiv hud,"
Før påføring, sørg for å rense og tørke huden godt. I forhold til retinoider er det en god idé å først fukte rundt sensitive områder, som under øynene og i nesekrokene, før du tar på deg retinoiden. Og hvis huden din fortsatt føles tørr, kan du fukte igjen, på toppen av retinoiden.
Natt nr. 3 og 4: Restitusjon
Restitusjonsperioden, vanligvis natt tre og fire, er det siste trinnet. På restitusjonskvelder holder du deg unna de eksfolierende syrene og retinoidene og gir huden din en sjanse til å restituere seg. 
Du vil fokusere på å gi næring til hudmikrobiomet og reparere hudbarrieren din, så tenk: hydrering og fuktighet, og unngå irriterende ingredienser. 
Rens huden din før du bruker en fuktighetskrem, og for disse nettene trenger du ikke å klape huden tørr – det er greit å la huden være litt fuktig. Du kan også bruke et fuktighetsgivende serum før fuktighetskremen din.
I praksis kan din Skin Sykling avhenge av hudtype og tilpasses individuelt. Opplever du følsomhet og irritasjon, kan du øke restitusjonsnettene dine. Eller, hvis du er erfaren og godt tilpasset retinoiden din og ønsker å rige opp, kan du utelate en restitusjonsnatt for en tre-natts syklus.
Når det gjelder hvor lenge du trenger å fortsette denne hud praksisen så kan du godt fortsette over en 6 ukers periode eller bruke kontinuerlig avhengig av hvordan huden din reagerer på de "aktive" ingrediensene du påfører.
En god tommelfingerregel: Når det kommer til rutinen din, er konsistens viktigere enn hyppighet. Produktene er mye mer effektive når de brukes regelmessig, selv om du ikke bruker dem daglig.
Skin Cycling har en rekke fordeler- her er noen:
Skin Cycling kan hjelpe med å reparere hudbarrieren din
En sunn hudbarriere er viktig, ikke bare fra et kosmetisk synspunkt, men også for hudens helse. En kompromittert hudbarriere kan spille en rolle i symptomer på en rekke hudsykdommer, fra akne til eksem eller atopisk dermatitt.
Overeksfoliering og bruk av kraftige retinoider kan skade denne barrieren (som fører til rødhet og irritasjon), men det er her hviledager er viktig. Restitusjonsnetter blir spesielt gunstige om høsten ettersom luften blir stadig mer tørr og kjølig. Kaldt, vindfullt og tørt klima kan forårsake tørr hud og forverre visse hudsykdommer som eksem. Skin cycling kan bidra til å forhindre at huden din blir tørr i utgangspunktet, slik at huden din potensielt kan håndtere klimapåkjenninger bedre.
Potensielle bivirkninger av hudsykling
Dersom du ikke allerede bruker et retinoid, kan du oppleve noen bivirkninger når du starter. "Retin-A og retinol er to vanlige ingredienser som forårsaker tørrhet, irritasjon og til og med betennelse når du begynner å bruke dem. 
Retinol gjøre deg mer utsatt for solbrenthet, noe som gjør solkrem enda viktigere enn vanlig. Disse bivirkningene reduseres vanligvis ettersom huden din tilpasser seg ingrediensen.
For personer med sensitiv hud, foreslår vi at du bruker fuktighetskremen din først for å buffere mot den potensielle effekten av retinoider, spesielt i sensitive områder som rundt øynene og nese-, munn- og hals. Når huden din er vant til retinoiden, anbefaler hun å snu rekkefølgen og påføre retinoiden først og deretter fuktighetskremen. 
De fleste mennesker, spesielt de med tørr hud eller sensitiv hud, finner det umulig å bruke en kraftig, stabil retinoid hver natt uten å oppleve tørrhet, irritasjon og ubehag. 
Har du en hudlidelse, som akne eller rosacea er det viktig at du får en kostnadsfri konsultasjon hos lege eller sykepleier spesielt hvis du tar reseptbelagte medisiner for huden din.
Ikke sikker på om en hudsykkelrutine er riktig for deg? Når du er i tvil, spør oss på Elite Helse og en  lege eller sykepleier vil bistå med hudråd. 
Folk har begynt å innse at bruk av flere produkter ikke alltid er det samme som bedre eller sunnere hud. Rotasjon av produkter er viktig og medisinsk fagkompetanse er nødvendig. 
Mindre er mer tilnærmingen fungerer når det gjelder hud og gir deg en strukturert tidsplan som gir intuitiv mening og trygg hudforbedring.
Hudpleierutine for dag og kveld "Skin Cycling" Elite Helse:
Skin Cycling
Dagrutine
Dagrutinen er den samme alle dager og endrer seg ikke
Hudrutine
Kveld Nr. 1:
Peeling
Rens, peeling i form av AHA og BHA syre, fukt
Hudrutine
Kveld Nr. 2:
Retinol
Rens, Retinol
Hudrutine
Kveld Nr. 3 og 4:
Recovery
Rens, fukt
Varighet :
Minst 6 uker eller som basis hudpleie rutine.
Resultat :
Ren, frisk hud med økt glød, jevnere hudtone, generelt hudforbedring og spenst.
Verdt å vite
Elite Helse, er minimalistisk, medisinsk hudpleie som gir maksimale resultater.Det vil si at de er behandlende, og inneholder svært høy konsentrasjon av aktiveingredienser uten å være på resept.
Produktene er laget med 15 års erfaring på hva som fungerer på huden eller ei.
Dispenserne er lufttette for å optimalisere stabiliteten til de aktive ingrediensene.
For å beskytte mot inflamaging og irritasjon, er alle produktene fri for disse ingrediensene:
1. Sodium lauryl sulfate (SLS) / Sodium laureth sulfate (SLES)
2. Parabener
3. Formaldehydfrigjørende ingredienser
4. Kunstig fargestoff, kunstig duft og duftblandinger
5. Etyl alkoholftalater
6. Propylenglykol DEA / TEA /MEA
7. Hydrokinon
8. Kojicsyre
9. BHA / BHT
10.Triklosan
Eneste medisinske serien på markedet som er 100% vegansk!
Elite Helse er trygge produkter, både for huden, helsen og omgivelsene dine.
Produktene er laget på erfaring. Ingrediensene er forskningsbaserte, og kun de beste brukes i produktene.
Produsert i Frankrike og USA
Elite Helse, har hudprogram tilpasset anti-aldring, anti-akne, rødhet, sensitiv hud,rosacea og menn, samt solpleie
Enkel og effektiv hudrutine for alle.