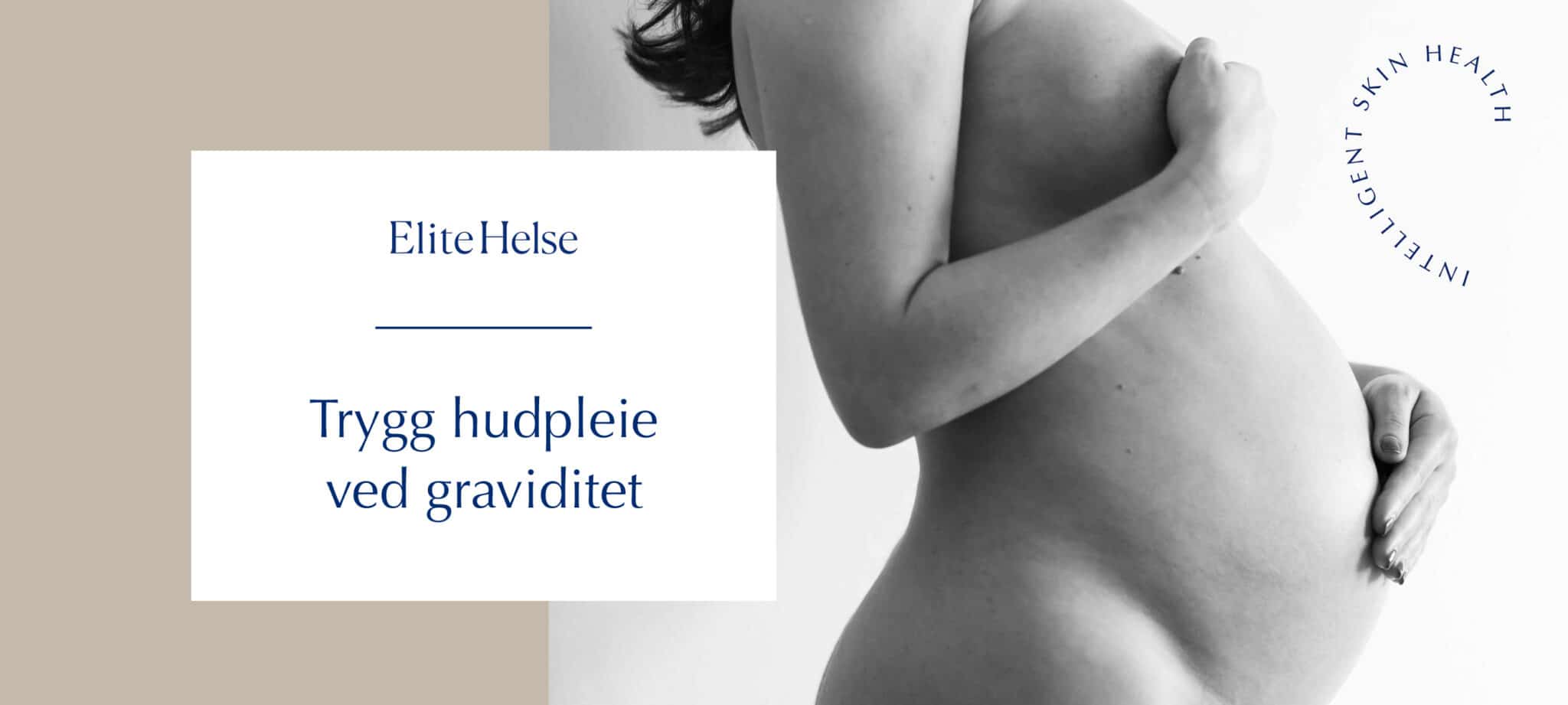 Graviditet og hudpleie: Hvilke produkter er sikre?
Graviditet er en spennende tid for kvinner, men den kommer med mange helserelaterte utfordringer for både babyen og den fremtidige mammaen. Bekymringene inkluderer alt fra hva du skal spise og hva du ikke skal spise, hvilke kosttilskudd du kan ta eller ikke, og hva du skal gjøre eller ikke gjøre med de mange endringene kroppen din går gjennom. Gravide kvinner lurer også på hvilke hudpleieprodukter som er trygge å bruke og hvilke som ikke er – det er der vi kan hjelpe!
Fordi noen ingredienser – både fra reseptbelagte medisiner og noen hudpleieprodukter – absorberes i kroppen når de påføres huden, er det viktig å vite hva som er trygt å bruke under graviditet og hva du skal unngå.
Hva du skal bruke og hva du skal unngå
Vi blir ofte spurt om produkter som inneholder benzoylperoksid, retinol, solkremingredienser eller salisylsyre er trygge å bruke under graviditet eller under amming. Dessverre har mange leger ikke noe svar klart, slik at mødre blir frustrerte og forvirrede. 
Retinol. Mens du er gravid eller ammer, er det best å unngå retinol (vitamin A), foreskrevne former for retinol eller retinolderivater (retinylretinoat, retinaldehyd eller hydroksypinakolonretinoat).
Hudblekemidler (som inneholder hydrokinon). Det er best å unngå å bruke dem under graviditet eller amming. Elite Helse vil heller ikke anbefale deg å bruke produkter som inneholder arbutin på grunn av korrelasjonen med hydrokinon. Bruk heller ikke benzoylperoksid.
Salisylsyre (BHA) er en overlegen peeling for huden, men når den brukes i høye konsentrasjoner, anses det å være en risiko når du er gravid. Imidlertid anses de små prosenter som brukes i hudpleie (2% eller lavere) som trygge. Du kan også vurdere å bruke glykolsyre- eller melkesyre (AHA) peeling som et alternativ, da disse er helt trygge å bruke under graviditet.
Solkrem anbefales daglig og du bør vurdere å bruke en solkrem med milde mineralaktive stoffer som inneholder titandioksid og / eller sinkoksid.
Hudutfordringer under graviditet
Hvordan kan du adressere hudutfordringer på en trygg måte under graviditeten? 
Ikke bekymre deg! Det er måter du kan ta godt vare på huden din mens du har sjelefred for at babyen din er trygg. Avhengig av din hudtilstand, her er hva du kan gjøre;
Misfarging av huden (hyperpigmentasjon) under graviditet:
Elite Helse tilbyr The Age Well Program trygg for enhver hudtype og tilstand. 
Bruk alltid solkrem Daily SPF 40  hver dag, hele året, uten unntak! På grunn av sin umiddelbare beskyttelse etter påføring, er denne veganske mineralsolkremen utmerket for å forhindre og minimere pigmentering. Husk at du må bruke solkrem daglig selv om det regner eller solen skinner.
Korrigerer og forhindrer synlige tegn på aldring
1
The Peptide Balancing
Cleanser
2
3
The Xenobiotic Brightning
& Firming Cream
Strekkmerker:
Strekkmerker som oppstår under eller etter graviditet er forårsaket av at huden blir strukket og utvidet i en periode. Den unormale strekkingen forårsaker et sammenbrudd eller brudd i hudens støttestruktur av kollagen og elastin (spesielt elastin, som gir huden sin fasthet.
Strekkmerker ser ut til å være genetisk relatert ettersom noen kvinner får dem og andre ikke. Strekkmerker er en av de tøffeste hudutfordringene å behandle. Det fordi det bør behandles tidlig dersom profesjonelle behandlinger eller medisinske produkter, som virkelig kan forbedre dem, skal ha effekt. Massering av huden din med et serum eller ikke-duftende planteolje under graviditet kan hjelpe huden til å bli mer smidig og redusere risikoen for strekkmerker.
Etter fødsel og etter ammestadiet kan visse reseptbelagte retinoider forbedre strekkmerker litt. Andre medisinske kosmetiske korrigerende behandlinger du bør vurdere (igjen, etter fødsels- og ammestadiet) inkluderer: laser og endymed behandlinger.
Anti-aging og rynker under svangerskapet.
Unngå reseptbelagte retinoider og reseptfrie produkter med retinol (på grunn av dets forhold til reseptbelagte retinoider). Hvis du vanligvis bruker denne typen produkter, bør du vurdere å bytte til et anti-aldringsserum som ikke inneholder retinol, som The Stem Cell Skin Booster Det er ingen dokumentert bekymring for ingredienser som vitamin C, niacinamid, peptider eller andre typer antioksidanter og plante stamcelle kommuniserende ingredienser når de brukes under graviditet.
Kontinuerlig bruk av hudpleieprodukter med antioksidanter og hudreparerende ingredienser anbefales på det sterkeste. Selv om informasjonen ovenfor ikke er ment å være uttømmende, bør den gi deg en klar ide om hva som er trygt å bruke under graviditet og hva som bør unngås. 
Som en påminnelse er det alltid en god ide å konsultere legen din om bruk av reseptfrie eller reseptbelagte medisiner du vurderer mens du er gravid eller ammer.