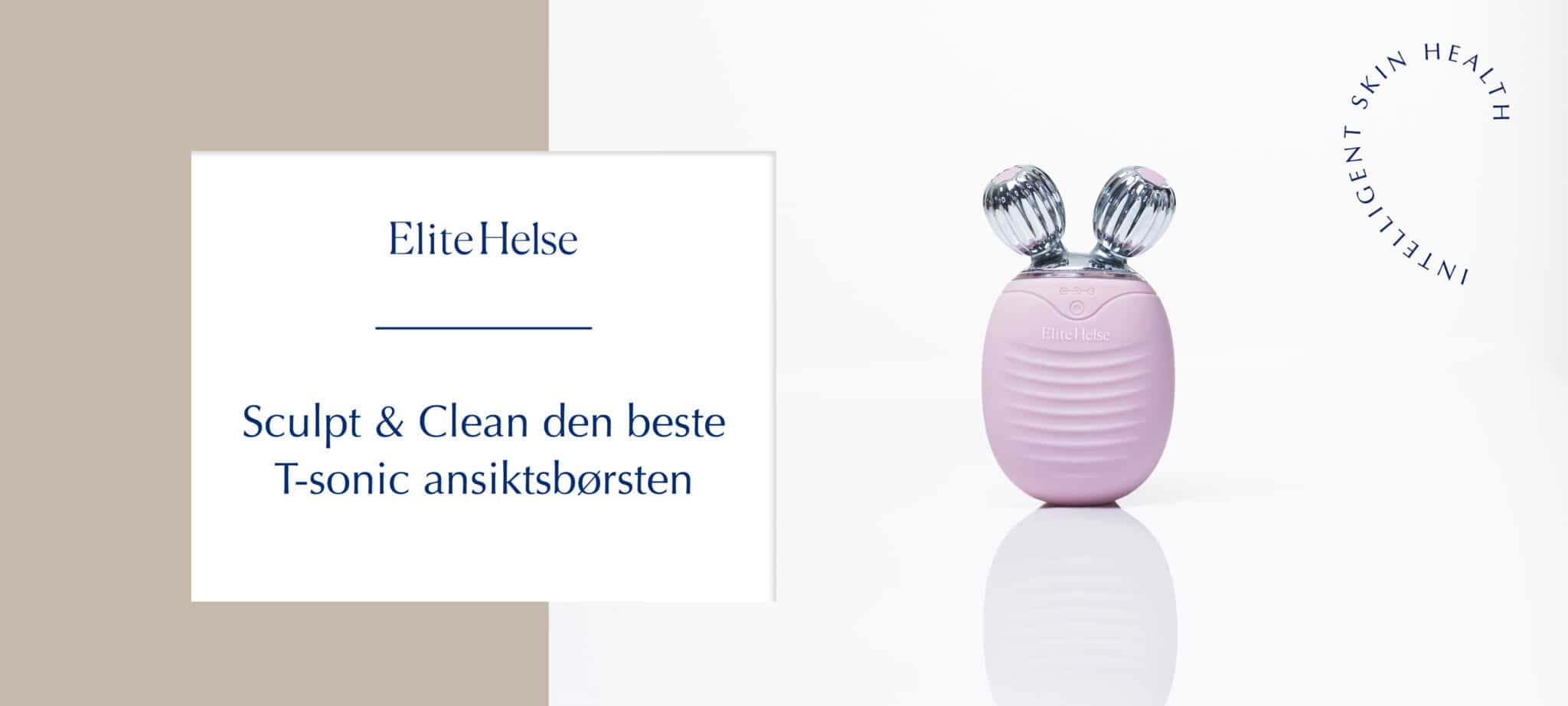 Sculpt & Clean den beste T-sonic ansiktsbørsten
Sculpt & Clean i kombinasjon med Intelligent Skin Health Cleanser er første steg til en sunn, sterk og vakker hud med mindre porer og mere glød.
Hva gjør Sculpt & Clean så spesiell?
Denne børsten med mikrovibrasjoner er av myk medisinsk silikon med 5.500 pulser per minutt kanalisert gjennom 566 berøringspunktfibre for skånsom fjerning av døde hudceller, dyprens av porene og stimulering av bindevevet som bidrar til økt blodsirkulasjon og umiddelbar glød.
Hvordan fungerer Sculpt & Clean ansiktsrensebørsten ?
Ved hjelp av sonisk teknologi arbeider effektive pulseringer for å stimulere huden samt rense porene dypt. I motsetning til spinning-enheter, fungerer vår patenterte soniske teknologi med hudens naturlige elastisitet, og svinger med en frekvens som produserer over 300 bevegelser per sekund. Den skaper en vibrasjon som arbeider for å løsne smuss og olje. Den fjerner dyptsittende urenheter fra porene og forbereder huden for bedre å absorbere aktuelle produkter og behandlinger.
Den
er praktisk, hygienisk og har tre funksjoner
Hvis du lurer på hvordan du får den beste starten på glødende hud, mindre urenheter og hvordan du fjerner sminke effektivt, er det ikke så vanskelig som du kanskje tror. Sculpt & Clean ansiktsbørste er det ultimate valg for å optimalisere din hudpleierutine. Bare vær forberedt på å bruke litt tid og gi huden oppmerksomhet!
Hvorfor er det viktig å rengjøre huden grundig?
Rensing er et nødvendig skritt i hudpleieregimet ditt, og uten tvil det aller viktigste. Å rengjøre huden riktig betyr å fjerne sminke, miljøforurensende stoffer og overflødig talg. Det er det første trinnet i å opprettholde og gjenopprette hudens naturlige barriere. [1]
Grundig rensing av huden hjelper også til å rense porene og redusere kviser og flekker.
Det uheldige er at rensemidler ofte er den minst spennende delen av en hudpleierutine. Ofte bruker vi bare det som er tilgjengelig, eller billigst. Elite Helse sin serie Intelligent Skin Health tilbyr et overlegent hudprogram og renseprodukter for deg som ønsker det beste for din hud og helse. Intelligent Skin Health signaturrens er formulert for å være pH-balansert styrke hudens barriere, og er fullpakket med antioksidanter. 
I tillegg vil produktene du bruker etter rensing – serum, fuktighetskrem og kremer – trenge bedre inn i huden din og øke produktets effektivitet. Det er ikke noe poeng å investere i kvalitetsserum og kremer hvis du ikke rengjør ansiktet riktig.
Uansett hvilken rens du har valgt, er spørsmålet: kan Sculpt & Clean ansiktsbørsten virkelig hjelpe deg med å få glødende hud?
Hva er fordelene med å bruke en Sculpt & Clean ansiktsrensebørste, og har de blitt bevist?
Vi hører ofte spørsmålet: Er det virkelig mye bedre å bruke en ansiktsrensebørste enn å bare bruke hendene? Flere studier har blitt utført for å evaluere effektiviteten av å bruke en ansiktsrensebørste med sonisk teknologi sammenlignet med rensing med hendene. En studie i Journal of the American Academy of Dermatology fant at bruk av kosmetikk og slitesterke produkter krever en dypere rensing for huden din, og det kan være "vanskelig å fjerne sminke, spesielt i ansikt porer og akne arr. " Studien viste også at en "sonisk rensebørste er betydelig mer effektiv når det gjelder å fjerne sminke enn manuell rensing." [2]
Hvis du har lest om våre
farligste sommerhud myter,
vet du hvor risikabelt det er å hoppe over solkrem når du er utendørs en lang sommerdag.
Men har du noen gang lurt på hvorfor du får flere utbrudd om sommeren?
Det kan være fordi solkremene du har påført ikke har blitt fjernet ordentlig. Vi vet at det er veldig vanskelig å vaske av vanntette solkremer. Det er bevist at ineffektiv fjerning av solkrem på slutten av dagen kan føre til hudproblemer som tette porer og kviser. [3] Men nå trenger du ikke å bekymre deg mer. Å lese guiden vår om hvordan bli kvitt kviser og bruke en ansiktsrensebørste kan hjelpe! En klinisk evaluering publisert i Journal of the American Academy of Dermatology testet hvor godt en ansiktsrens med sonic børste kan fjerne solkrem. De fant at "rensing fjernet betydelig mer solkrem (kjemisk, kombinasjon av fysisk og kjemisk, og kjemisk med 80 minutters vannmotstand) fra huden enn manuell rensing for alle studier." [4]

En annen studie som demonstrerer effektiviteten ved bruk av sonisk børste er en delt ansikts evaluering av et hudpleieprogram alene sammenlignet med et hudpleieprogram som brukes med en sonisk rensebørste. Studien fant at "sidene av ansiktet som ble renset med sonisk børste, overgikk sidene av ansiktet som ble rengjort manuelt i lysstyrke / utstråling / porer og jevnhet i hudtonen. "[5] Konklusjonen en sonisk ansiktsbørste forbedrer huden.
Som du kan se, viser alle studiene nevnt ovenfor at bruk av en sonik ansiktsrensebørste er mye bedre til å rengjøre ansiktet! Det gir også en effektiv løsning for hvordan du fjerner sminke og solkrem. 
Selv om det kan virke som et unødvendig og tidkrevende trinn i hudpleierutinen din, kan det å bruke en ansiktsrensebørste faktisk spare deg mye mer krefter og tid i det lange løp!
Definitivt nok grunn til å kjøpe en nå, men ikke før du er ferdig med å lese denne artikkelen for noen viktige tips.
Hvordan bruker du en Sculpt & Clean ansiktsrensebørste?
Fjern sminke før bruk.

Skyll ansiktet med vann og påfør rens på ansiktet ditt som vanlig.

Fukt Sculpt and Clean, slå den på og begynn å bevege den forsiktig over hele ansiktet i sirkulære bevegelser. Ikke trykk hardt på huden din. Den tåler vann og er trygg til å bruke i dusjen. Fokuser på kinnene, nesen, haken og pannen i noen sekunder hver.

Unngå det sarte øyeområdet.

Når du er ferdig, skyll ansiktet med vann og tørk det med et rent håndkle. Fortsett med ditt vanlige hudpleie program.
[1]
Journal of the Rosacea Research & Development Institute
: Volume 1 Number 1, 2010, page 7, author Zoe Diana Draelos, M.D. 
[2] "A novel fluorescent makeup methodology used to measure the cleansing efficacy of a sonic skin care brush." Journal of the American Academy of Dermatology, February 2007, Volume 56, Issue 2, Supplement 2, Page AB38
[3] "Evaluation of the cleansing efficacy of a sonic skincare brush on sunscreen removal," Journal of the American Academy of Dermatology, May 2016Volume 74, Issue 5, Supplement 1, Page AB32
[4] "Evaluation of the cleansing efficacy of a sonic skincare brush on sunscreen removal," Journal of the American Academy of Dermatology, May 2016Volume 74, Issue 5, Supplement 1, Page AB32
[5] "Split face, randomized, clinical evaluation of the efficacy of a facial regimen alone vs a facial regimen used with a sonic cleansing brush." Journal of the American Academy of Dermatology, May 2015, Volume 72, Issue 5, Supplement 1, Page AB26